In which I confirm that Kate Milford is an author I love, and I discover a new author to devour with eagerness.
I'll be brief about
Greenglass House
, because several MMGMers have already reviewed it, and it's getting well-deserved attention. I'll just say books like this are why I read middle-grade fiction. Tightly-crafted story with characters as fun and eccentric as real people are, a setting full of the magic of loved objects and spaces, a protagonist who breaks your heart. Just look at that cover! Gorgeous art that perfectly captures the feeling of the book: the wintery atmosphere, the rambling old house with its mysterious nooks and crannies and storied windows—if you look at that house and wish you could visit it, then this is the book for you. It's a smuggler's inn! It's a house with history that fills up with all kinds of crazy guests with histories, and Milo our hero gets to explore the house and investigate the guests and discover the truth at the heart of all the stories. Hot chocolate and shortbread by the fire with big fluffy snowflakes falling outside; I think I'll re-read
Greenglass House
every year at Christmas!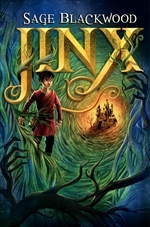 I picked up
Jinx
at my library because a few bloggers I trust were raving about it (Rachel Neumeier even compared it to Diana Wynne Jones, so that caught my eye!) I was not disappointed; this is a book worth raving about. And I'll even grant the DWJ comparison. Blackwood throws fairy tales and myths and superstitions in a jar and shakes them really hard so they get all broken up and mixed together, and then she sprinkles the jar over a big, sentient forest, and hovers over it to find out what happens. A boy named Jinx gets rescued from a stepfather and a few trolls by a wizard who says he doesn't want to eat him, so Jinx goes to live in his stone castle-house full of cats and locked doors. I loved Jinx right from the start: he's no fool, he knows the world is dangerous, he knows how to keep his head down and avoid attracting unwanted attention, but he's no coward. He's determined to get through the locked doors and learn enough magic so he can safely step off the Path. I was completely sold on the story when Sophia showed up (no spoilers as to who she is, but I love her interactions with Simon). There's a lot of humour, both Jinx's dry wit as he deals with a truly inhospitable world, and Blackwood's playfulness with tropes and expectations. It's also a story with heart about an orphan lost in the woods who learns to make his own path; Blackwood takes that age-old story and makes it entirely fresh and surprising. (Warning: this isn't a stand-alone. I'm heading to the library asap to get the sequel!) Something with blackberries in it: tart and sweet and worth all the thorns, just like the Urwald. Blackberry cobbler, I think.
Marvelous Middle-Grade Monday is the brilliant idea of
Shannon Messenger
, who hosts collections of middle-grade reviews on her blog every Monday. (Except this Monday, because she's sick. Get well soon, Shannon!)