My daughter just got on a plane for a five week trip to South America (am I worried? nah, of course not! what could possibly go wrong!), and so I lent her my Kindle for the ridiculously long plane ride (and all the bus rides etc.). To help her decide what to read, here are quick descriptions of the books on my Kindle I think she might like (in no particular order):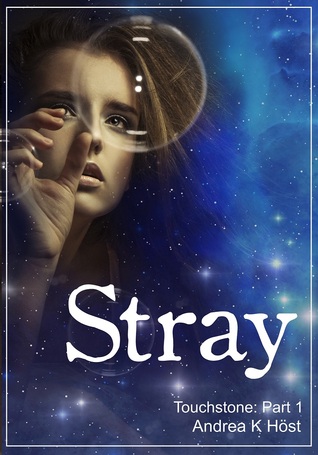 Touchstone series
, by Andrea K. Höst
Girl accidentally walks through a portal to another planet. Wilderness survival story until the patrollers from an advanced society rescue her and she discovers—oh, but I don't want to spoil it! Very fun adventure with a bit of intense romance. (I will say nothing about the hot psychic ninja warriors in form-fitting nanotech suits. Ahem.) Easy reading YA.
Queen's Thief series
, by Megan Whalen Turner
Eugenides is a thief and a trickster, and if you think you know what he's up to, you're most certainly wrong. The first book is fairly simple (except that you don't even know you don't know what Eugenides is up to), written for a younger audience; then the next books get much more intense and complicated with plots and schemes and politics and the odd intervention of the gods. Vaguely ancient Greece-type setting. Eugenides is one of the best characters ever written. YA-adult.
A Matter of Magic
, by Patricia Wrede
She tries to steal from a magician: not a good idea. But he thinks she should become his apprentice. Light-hearted magical adventure in an 18thC England setting: drawing rooms and highwaymen and whatnot. Cute and fun, young YA.
The Curse of Chalion
, by Lois McMaster Bujold
A weary soldier returns to the estate he grew up on, hoping to find a place as a servant. Instead he gets involved in royal plots and has to lift the curse on the royal family before the kingdom is ruined. Very well-written, wonderful characters. Gets fairly intense. Adult fantasy.
The Curse Workers series
, by Holly Black
What if magic ran in the Mafia family? Twisty plot about a family of con artists, each with different ways of magically affecting people, like persuasion or memory alteration. Cassel's talent is death. His sarcastic narration lightens this dark YA story of manipulation and deceit.
Black Dog series
, by Rachel Neumeier
Werewolves, but not like any werewolves you've seen before. Natividad and her two brothers flee to Vermont seeking the help of the formidable Dimilioc clan, knowing they will want Natividad for her Pure magic, but not sure they'll let her brothers live. Great family interactions, interesting pack dynamics: there's lots of fighting and stuff but it's really all about the relationships. Great writing and lots of humour to offset the throats getting ripped out. YA.