Just got a text from my sister-in-law with a fairly common question: her son has finished Harry Potter, Artemis Fowl, and Percy Jackson—what can he read next?
Well, lots of people have created their own lists, but maybe it's time I made my own. Based on my bookshelf, my own memories of reading, and my sons' reading, I'm going to do a couple of posts with a few suggestions, sort of divided into categories.
Classics Everyone Should Read (IMHO)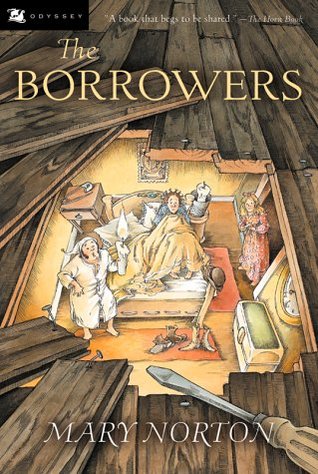 The Borrowers,
by Mary Norton. What is it about the idea of little people that's so fascinating? What makes this story great, other than descriptions of how a family lives under the floorboards of a human house, "borrowing" what they need from the humans, is the cautious friendship between the borrower daughter and a human boy. Just delightful. And if you like books about small people, you should also try T
he Cricket in Times Square
and
Stuart Little
.
Five Children and It
, and everything else by E. Nesbit. Wonderful adventures set in early 20thC England, in which kids get to run around without adult supervision and find wish-granting creatures and get into hilarious magical trouble. And if you like the British period setting, you should also try Edgar Eager's books, which are very similar.
The Chronicles of Prydain
, by Lloyd Alexander. Five-book epic fantasy about an assistant pig-keeper, a wizard, a hero, and a princess, fighting the powers of darkness in a mythical version of Wales. You could say it's The Lord of the Rings for the younger set. Or you could just enjoy Taran's adventures as he stumbles his way into heroism. (Princess Eilonwy is the original kick-ass heroine, btw.) And if this stimulates your love for all things wizardly and epic, you might be ready for
A Wizard of Earthsea
, by Ursula K. Leguin (for a slightly older audience).
A Wrinkle in Time
, by Madeleine L'Engle. Is it fantasy? Is it sci-fi? Is it an amazing book that everyone should read? Yes and yes. A tesseract is a wrinkle in time, and it allows Meg and her precocious younger brother Charles Wallace to travel across the galaxy to rescue their father from IT. Mind-blowing and so convincing to my young self that I half-seriously asked my high school biology teacher if there was such a thing as farandolae (that's actually from the second book of the trilogy, but anyway)(OK, it's a quintet, but the first three books are the best)(IMHO).
Black Beauty
, by Anna Sewell. Now we're really getting into classics! I adored this book as a child, read it a million times I swear. It has some pretty sad bits: it's an entirely realistic life story of a horse in Victorian England. But utterly compelling!
The Black Stallion,
by Walter Farley. Yes, I went through a horse phase when I was a preteen. There are, maybe 25 books in the Black Stallion series, and I read them all, multiple times. They do get a bit formulaic after a while, but the first book is a truly great read, and if you can't get enough of horses, it's wonderful to have 24 more books ahead of you!
The Chrestomanci books
, by Diana Wynne Jones. And then read everything else she wrote! DWJ, as we bloggers affectionately call her, requires several posts of her own to do her justice (if you click on her name in the labels section below, you'll get all the posts I've done about her so far). She is the Grand Lady of British Fantasy—imaginative, deep, compelling, and almost always very, very funny. The Chrestomanci books are about a nine-lived enchanter who has to sort out magical problems in various parallel universes connected to our own. You can start with any of them, but
here
is a suggested reading order from DWJ's website.
This post is getting so long I decided to deal with more contemporary picks in an entirely separate post. What classics from your childhood should I have added to my list for my 12-year-old nephew?
My sister-in-law and anyone else looking for great reads for kids (or themselves!) should definitely check out
Shannon Messenger's awesome blog
, for more Middle-Grade recommendations every Monday.