Ahem. Two days ago, actually. But in case you're as behind the times as I am,
here's the link to all the winners
. And the book we chose for YA Speculative Fiction is . . .
Illuminae
, by Amy Kaufman and Jay Kristoff. I
reviewed it last year
when I first read it, and on a reread I still found it a lot of fun. We judged that it would have a ton of appeal to teen audiences, and we were impressed by the innovative format, which made the whole reading experience a little meta.
We did have a lot of debate before deciding on
Illuminae
, however, because we got a stellar short list to choose amongst. So I want to highlight the rest of the books, because they all deserve notice and recognition.
This Savage Song
, by Victoria Schwab, is a dystopian Romeo and Juliet (sort-of, except they don't actually fall in love, so really not at all, but it totally has the "Two households both alike in dignity" thing going on) in the same vein as Marie Lu's
Legend
series. I really liked the monsters—the concept of how they're created, and the way the story questions what it means to be a monster. I liked the way music is used; I liked the way family relationships are explored. I loved both protagonists, their struggles with their own identities, and the prickly friendship they develop. The story comes to a satisfying close but definitely needs a sequel, which I will be eager to read.
Still Life With Tornado
, by A.S. King. Brilliantly written book about an artist who can't do art anymore. Or about a family falling apart, or starting to heal. It kept surprising me, as King's books tend to do. It didn't seem like speculative fiction, except that it was definitely surreal. The protagonist is incredibly annoying at first, but just funny enough to put up with, until she breaks your heart. It's one of those books with lots of pieces that are interesting enough on their own, but when they finally all come together you have to gasp a little at how beautiful the final picture is. Not an easy book to describe, but a book you have to read.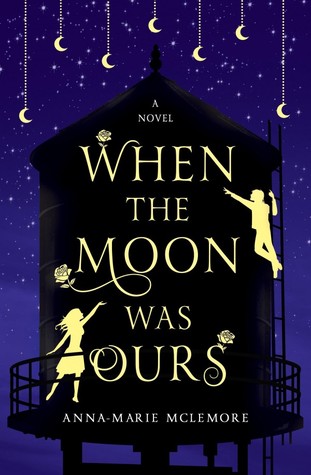 When The Moon Was Ours
, by Anna-Marie McLemore is gorgeous, lovely, luminescent, tender, and a little bit unsettling. Magical realism at its most magical, it's a love story between Miel, who grows roses from her wrist, and Samir, who has a secret that, above all else, the four Bonner sisters cannot find out. There are glass pumpkins and cures for lovesickness and paper moons, and it's really not like any other book I've read. It has important things to say about choosing our own identity, and it says them beautifully.
I'll highlight the other three in my next post!