I'm so behind on my reviewing! I blame summer and my ridiculous tomato plants. I'm going to do a few quickies, mostly of adult stuff I've read this summer, and then list the Middle Grade/YA books that I intend to review very soon.
Django Wexler:
The Thousand Names,
The Shadow Throne
,
The Price of Valor.
The first three of what looks like five books in The Shadow Campaigns series, these are a lot of fun. The first one is very military—lots of details of battles and strategy—with some interesting fantasy elements mostly at the end. The second one is political manoeuvring and spying, and the third is basically the French Revolution, with demons.
I'm in it for the characters: Winter is my favourite, the girl disguised as a boy who joined the army and proved to have a pretty good knack for soldiering. Raesinia, the princess fomenting revolution, didn't grab me as much at first, but I liked her plot line, I really liked her faithful maid/spy/bodyguard, Sothe, and Raesinia grew on me as she grew as a character. I loved the new person introduced into Winter's life in book 2, and the way that plot plays out. And, of course, how can one not love Marcus; he's just such a nice, competent guy continually being thrown into the deep end and figuring out how not to drown.
So far the books have been good at having their own internal plot arcs, so each book feels finished even though the overall story isn't done. I don't think it's too spoilery to say that by the end of book 3 we still have no idea what Janus is up to!
No content I wouldn't let my 13-yr-old read. I recommended the series to my nephews who have just finished Wheel of Time.
Ann Leckie:
Ancillary Justice
and
Ancillary Sword
. Such a great concept, such a wonderful character. I reviewed
Justice
on Goodreads
here
.
Sword
was simpler in structure and didn't have the big emotional reveal of
Justice
, so wasn't quite as mindblowing, but I was still compelled by Breq's story, I loved the writing, and I am anxiously awaiting
Ancillary Mercy
.
I think content is okay for teens, but it would take an experienced reader to get through
Justice
.
Jo Walton:
Tooth and Claw.
Because, Victorian novel-of-manners starring dragons. How could you not want to read it? The high-society family drama is compelling enough I would have enjoyed it even if they weren't all dragons, but Walton does such a good job of cross-breeding dragon biology, psychology and mythology with British class structure, she simultanously makes you believe completely in the dragons and brilliantly satirizes the British. I was gasping in admiration the whole time I read it. What an accomplished writer. Oh! And she's Canadian! (This makes #2 of 13 Canadian books this year.)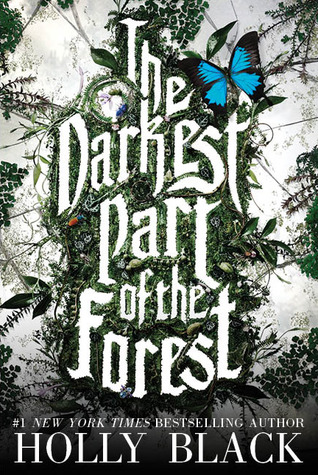 Holly Black:
The Darkest Part of the Forest
. I read this and enjoyed it, and then two months later when I noticed it on my TBR list, I had completely forgotten reading it. Not sure what that says. Once I jogged my memory I remembered liking the modern setting and the way the Forest and the fey world is integrated into it. I loved the character of Jack, the changeling, and I liked that the prince character's development wasn't predictable. I guess the verdict here is a good read but not as memorable as other Black stories (
Coldest Girl in Coldtown
still makes me shiver a bit when I think of it.)
Kind of sounds like it might be Middle-Grade, but it's definitely YA.
Rachel Neumeier:
Pure Magic
. Second book in her
Black Dog
series, which happily she has decided to continue publishing on her own even though the publisher of the first book went defunct. (I just hope she keeps her promise even though she has like five other books she's working on at the moment: this woman is seriously prolific! Not that I'm complaining; I'll read anything she writes. I just want to maintain a certain level of fan pressure so she knows we want book three of this series. Soon. Please?)
Pure Magic
is a thoroughly satisfying sequel. More of Natividad, Miguel and Alejandro, more Ezekial and Keziah, more threats to the Dimiloc black dogs, trying to maintain civility and order despite being seriously outnumbered. A great new character: Justin, who is completely new to all this magic and shapeshifting and isn't sure he wants anything to do with it. Everything I loved about Black Dog, lots of action, more character development, and plenty of scope for more story in this world. (Book three? Soon? Pretty please?) I will say I thought
Black Dog
was tighter; there were times in
Pure
when I rolled my eyes a bit and thought "we get it already, just get on with it." But I still loved it.
Lois McMaster Bujold:
Penric's Demon
. A novella that felt like a very long short story, set in the same world as Curse of Chalion, but different country and time period. Great character study. I enjoyed being back in the world, and I loved Penric. I thought the pacing was a bit odd: slow development and then rushed climax. When I got to the end I thought, "Oh, it's the end already?" One reader said he thought it felt like the first third of a novel, and I agree that it does feel like the setup part of her novels. But it's also a complete little arc unto itself, so if she never continues Penric's story, I won't feel cheated. It's like a little unexpected treat.
Coming soon: complete reviews of more books that I really loved:
Naomi Novik: Uprooted
N. K. Wilson: Dandelion Fire and The Chestnut King
Susan Juby: The Truth Comission
Eva Ibbotsen: The Dragonfly Pool