Apparently there's a secret society of Canadians named Susan/Susin who write quirky, funny, moving, painfully accurate stories about teens trying to survive adolescence.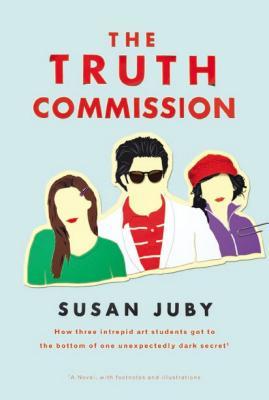 I've raved before about Susan Juby
, whose
Alice
books are a treat and whose
Woefield Poultry Collective
had me in stitches the whole way through, so I was looking forward to
The Truth Commission
.
It's not quite as side-splitting as her earlier books, but it's a fun read with a terrifically engaging narrator. Norm (short for Normandy) is writing a narrative non-fiction project for one of her classes at a fine-arts high-school. It's sort of a diary on steroids, because she includes lots of footnotes and meta-textual observations addressed to her English teacher. Also illustrations. All very entertaining.
The story Norm tells is about her and her friends' attempts to find out the truth about various people at school (hence "the Truth Commission"), but the real story is Norm finding out the truth about her sister. She ruined Norm's and her parents' lives by turning them into the subjects of her famous graphic novels, and is now being even more nastily manipulative and exploitative. I was a little disappointed in the Truth Commission concept, because it didn't seem to go anywhere (so much potential for social blunders that wasn't realized), but once the plot about the sister got into gear: woah! Lots of themes about what is art and what is truth and who gets to tell it.
What I loved most about the book was Norm and her two friends, Neil and Dawn. They were hilariously quirky and their friendship was a delight. And I loved Norm's voice, and all the thematic threads arising from Norm telling her story, allowing her long-silenced voice to be heard. Lots of layers of plot, structure, theme, character development come together very satisfactorily.
Fish tacos. I don't know why; maybe because fish tacos are kind of quirky, in a delicious way.
Susin Nielsen apparently went to the same class on voice as Susan Juby. The two narrators of
we are all made of molecules
are brilliant characters with equally hilarious voices. Stewart and Ashley are from opposite ends of the high school social spectrum, and being thrown together in a step family causes predictable conflict. The plot isn't particularly unique, but the voices kept me riveted to the page.
I kept thinking that they were both a little caricatured—awkward smart kid and clueless mean girl—but people really are that weird, and that hateful, and that oblivious, and that selfish. Giving us the two perspectives in first person narration means that we both laugh at and sympathize with both characters, even though Stewart is immediately loveable and Ashley is mostly hateable, until she finally gets her comeuppance and actually gains a little insight.
There are serious issues dealt with, from bullying to homophobia to date rape, but I'd still say it's middle-grade appropriate (nothing bad actually happens; it just might have). The ending is perhaps a bit too rosy, but it's a light-hearted book, for all it can sometimes hit you in the solar plexus. I definitely had tears in my eyes at some points, and was laughing out loud at others.
Other things I liked about it: the parents are all real, realistic, present characters, not perfect but doing their best to be parents. I really liked both kids' relationships with their parents and stepparents (and I think that's what got me over how really horrible Ashley was: the fact that she had a mom and dad who loved her and were trying hard to be patient with her).
I loved the cover and the title, too; they definitely got me to pick up the book, when just reading the blurb I probably wouldn't have. Maybe I should read more contemporary realistic fiction! (But only if the author's name is Susa/in!)
Lasagne. All the ingredients are familiar, but when it's well-done, it transcends comfort food (while still being ultimately comforting).
For more great Canadian reads, head over to
John Mutford's blog
. These two books make 4/13 for my Canadian Book Challenge. I'm on track so far!