This book. This book, people.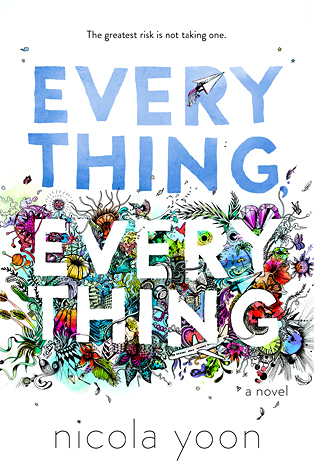 This book is perfect.
This book has everything (ha, ha, get it?). All the feels. Stunning command of language. Brilliant use of structure. Living, breathing, flesh-and-blood characters. Deep, honest themes. Really cute kids who fall in love. (That's in the blurb, so it doesn't count as a spoiler.)
And that cover! I keep touching it to see if it's real. Plus there are awesome illustrations and graphic designs inside the book that add a wonderful immediacy to Madeleine's narration.
I want to quote the whole thing, but it's hard to find any quotes that aren't spoilery. Here's a good one:
"Love can't kill me," I say.
"That's not true," she says. "Whoever told you that?"
I adored Madeleine from the moment I met her, with her colourful books in her white room with the white walls and white bookshelves, and her heartbreaking "Reward if Found" ideas that she writes in each book. Trapped in her house by a rare disease, she is patient and funny and self-aware and so, so sad.
Then Ollie and his family move in next door, and Ollie dresses in black and is athletic and sardonic and does hilarious things with a bundt cake. Madeleine is terrified of getting to know him because it can only end sadly. They can't even meet! But how can she resist?
It's almost certainly going to be a disaster.
There is so much going on in this book, and I can't tell you about any of it! Just know that it's utterly compelling (I sat in a chair, opened it up, and didn't get up from the chair until I was finished). It's also very funny. Olly and Madeleine have intelligent witty banter that actually sounds realistic. Their developing relationship is delightfully, exquisitely drawn.
And the ending is the best kind of ending: the one you never saw coming, but when it happens you realize you should have known all along.
YA romance isn't really my genre, but when it's done like this one I can't help but like it.
My mom's melt-in-your mouth shortbread (which I'm about to make, because Christmas baking!).