A couple of mystery/puzzle books for those who loved
The Westing Game
,
The Mysterious Benedict Society
and
Blue Balliett's books
.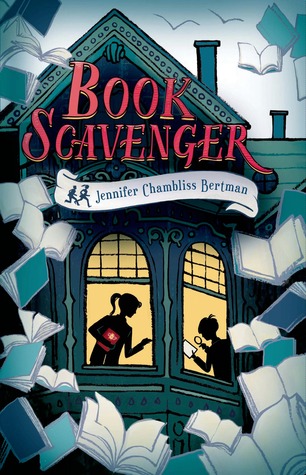 Book Scavenger
, by Jennifer Chambliss Berman, has the best premise: a book-hunting game like geocaching except when you hide a book you create a puzzle someone has to solve in order to find it. I badly want this game to be real, and if you're in the States you can participate in
Bertman's version of it
. I think everyone should go join up right now, because this needs to become the next big thing!
But the book. It's a fun scavenger hunt through San Francisco as Emily tries to solve the last game created by eccentric entrepreneur Garrison Griswold. She's chased by a couple of nasty henchmen, determined to get their hands on whatever the prize turns out to be, and she's aided by her new neighbour and equally keen puzzle-solver James.
As in all puzzle books, there were plot aspects that seemed contrived, but I enjoyed the trip through San Francisco's geography and literary history. There were fun juicy tidbits about Edgar Allen Poe and his friend/nemesis Griswold (a real historical character); Bertman has an afterword in which she explains what she took from history. (I didn't know that Poe invented the detective-mystery genre.)
Emily is an engaging protagonist, and I liked her developing friendship with James, complete with misunderstandings and Emily learning what friendship means. Emily's family plays a realistic role, with an older brother who used to play Book Scavenger with her but is now obsessed with a rock band, and her parents who make a living based on their goal to live in every one of the 50 States (the reason why Emily has moved nine times in her twelve years and therefore has such a hard time making friends).
Book Scavenger is nominated for a
Cybil award in the Middle-Grade Fiction
category. I think I'm glad I'm not judging that category, because it would be hard to judge between the more serious, issue-based, Newberry contender novels and more fun ones like this. (I myself prefer the fun ones!)
My son is making my microwave caramel recipe right now, and he's planning on pouring the caramel over Rice Krispies. That sounds like a good comparison for this book: chewy, sweet and crispy.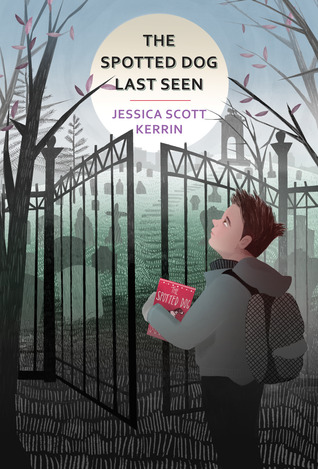 The Missing Dog is Spotted
is another Middle-Grade Fiction nominee. I love the pun in the title! My library didn't have it, but I did find Jessica Scott Kerrin's earlier novel,
The Spotted Dog Last Seen
. The two books are connected but each stands alone.
Dog Last Seen
is a quirky mystery about death, gravestones, accidents and responsibility. Derek gets stuck with cemetery duty for his community service. Who knew there was so much to know about gravestones? Then there's a library book with a secret code pencilled inside it that Derek and his fellow cemetery duty friends are determined to solve. The librarian knows more about it than she's saying. But the real mystery is the nightmares Derek keeps having about a car accident.
Everything turns out to be connected, and Derek is able to lay a ghost of his own to rest by the time all the mysteries are solved. I think one of the satisfactions of fiction—and of puzzles—is discovering that everything fits together. Nothing is random.
Dog Last Seen
plays with connection and coincidence to get at the deeper theme that everyone is significant. Although on the surface this book seems quite similar to Book Scavenger, there is more going on here; like its title,
The Spotted Dog Last Seen
yields more meaning the more you think about it.
I am eager to get my hands on
The Missing Dog is Spotted
and find out what new interesting characters and mysteries Kerrin has in store. If it's anything like
Spotted Dog
, I think it should be a strong contender for the Cybil award. (And I'm not just saying that because Jessica Scott Kerrin is a Canadian author!)
I am now completely stuffed with caramels (they turned out delicious, but slightly overcooked so impossible to get out of the pan!), so I can't think of any other food analogies. Something savoury, though, with enjoyable flavours in unique combinations.
Don't forget to visit
Shannon Messenger's weekly round-up of Marvelous Middle-Grade books
. And for more Canadian books to try, go to
John Mutford's truly northern blog
.