Aiiiiieeeeeeee! How can you do this to me Laini Taylor!
Why didn't I notice that this isn't a standalone? At least then I could have been the teensiest bit prepared. I mean, I've read all her other works. I know the cruelty of her cliffhangers.
Allow me to go tremble a while in silence before I continue with my review.
Ahem.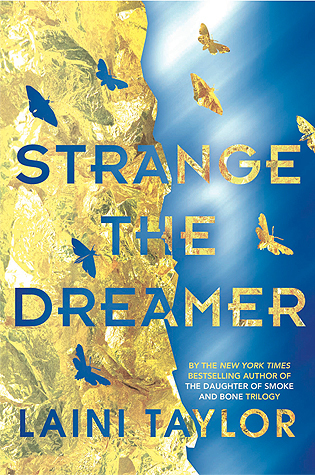 This woman's brain. Laini Taylor's, I mean. She's written yet another beautiful, terrible, ecstatically wrenching book, and I've figured out how she does it: she's a monster herself. And I mean that in the nicest possible way! (Sort of like the monsters in Kristin Cashore's
Fire
: beautiful but deadly.)
Only Laini Taylor could come up with the rapturous, lovely ideas in
Strange the Dreamer
, and yet somehow understand malice and hatred to such a depth. Oh, the goodness and evil in men's hearts, laid so bare!
I'm not being very coherent, am I? It's one of those books.
Lazlo's mind was afire with marvel, the lit match touching off fuse after fuse.
I don't want to tell you anything about the plot. You really want to discover the mysteries of the Unseen City as Lazlo Strange discovers them: slowly, painstakingly, piecing together the forgotten language from old trade documents and explorers' diaries (it's okay, you don't actually have to do this), with passion and faith in the stories no one else believes, so that each big reveal lands in your open mind like a gift, a dream come true.
(You may notice that reviewers of Laini Taylor books have a tendency to wax eloquent. Or, at least to try. It's our feeble attempts to do justice to her writing.)
If you've read her other books, you'll find familiar motifs and themes in this one—wings, for example, and monsters, and questions like, how do you overcome inherited hatred? what happens when you love your enemy?—but in an entirely different setting and a really, really unique plot. I mean, how does she come up with this stuff? Blows my mind.
. . . their edges fading like the evanescent white bird, Wraith, as it phased through the skin of the sky.
If you love her previous work, you won't be disappointed. If you're already a fan, that's all you need me to tell you.
If you liked the Daughter of Smoke and Bone series, but weren't a huge fan of the, admittedly, very insta-love . . . weeeelllllll . . . Okay, there's a pretty impetuous love (not quite instant), but I have to say I thought it was handled better. Given these characters and the circumstances in which they meet, yeah, I'll buy that they fell in love pretty quickly. And, wow, what a unique love story!
If you haven't tried the intoxicating fantastical brew that is a Laini Taylor story, I promise you that you will fall in love with her characters even as you are mesmerized by her imaginary world. Lazlo Strange, orphan, librarian, dreamer—humble, passionate, kind, persistent—I dare you not to love him. He's just the nicest guy! "A dreamer in whose mind the best version of the world grew like seed stock. If only it could be transplanted into reality." And to watch his rare, gradual triumphs was a genuine delight.
It wasn't just metals and magnets anymore, but ghosts and gods and magic and vengeance, and while he wouldn't call himself an expert in any of those things, he had more to recommend him than the others did, starting with an open mind.
You've been warned about the cliffhanger.
I will also say, Laini Taylor's husband is one lucky guy. Or maybe it's Laini who's the lucky one. From what I can gather (after reading this novel), *ahem* she really, really knows how to kiss.
Thomas Haas bittersweet chocolate filled with passionfruit ganache. (Sorry, has to be Thomas Haas, and I don't know if they sell online but if they do and you like chocolate you owe it to yourself to order some. Or come to Vancouver, because you can't really order hot chocolate online.)