E. K. Johnston is a unique voice in YA fantasy. When I heard she was doing a retelling of the story of Scheherazade I knew she was just the writer to attempt it. It's a story that pretty much demands compelling prose—prose that could save someone's life.
A Thousand Nights
is a beautiful book. The writing glows. The voice resonates like a legend; it reminds me of Robin McKinley's early writing, that sort of fairy-tale cadence that lifts every-day actions into greater significance:
Lo-Melkhiin killed three hundred girls before he came to my village looking for a wife.
She that he chose of us would be a hero. She would give the others life. ... She that he chose would give hope of a future, of love, to those of us who stayed behind.
She would be a smallgod for her own people, certainly, in the time after her leaving. She would go out from us, but we would hold on to a piece of her spirit, and nurture it with the power of our memories.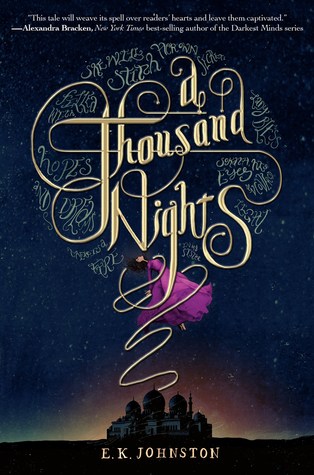 In the hands of a lesser writer, this kind of narration gets old rather quickly. But right after that opening passage, just when I might have rolled my eyes and put the book down, we learn that
parents would bring sweet-water flowers, even in the height of the desert wilt, and pickled gage-root to leave as offerings. She that he chose of us would never be forgotten.
She would still be dead.
Johnson gives us the little details that bring a world to life (what on earth is pickled gage-root? but I can imagine what it tastes like), plus a glimpse into the narrator's attitude that convinced me her story would be worth following. She's a determined young woman who knows her own worth, and her story is vibrant with detail about the world she loves.
She's never named. No character other than Lo-Melkhiin is given a name. People are referred to as "Lady Mother," "Daughter of my heart," "Sister of mine," and I thought this was beautiful and in keeping with the tone of the narration. It's also thematically significant, as the protagonist's relationships with her family and community are what give her strength.
I loved the notion of becoming a smallgod. I have lots of things I could say about the way
A Thousand Nights
explores the nature of power, but what I loved was the way our heroine gained her magic from little, every-day tasks, unnoticed, discounted by the villain. Women's work. The love and care that hold a community together. This is what saves her. And everything described in such evocative prose that even though I've never spun or woven I could feel the thread beneath my fingers, and completely believe that magic could arise from it.
This is not a book to read for plot. There's hardly any action, and the conflict plays out straightforwardly, no twists or sudden revelations. This is a book to savour for its descriptions, for the sensory world it builds. I delighted in the sisterhood and the friendships, and I was compelled by the heroine's quiet defiance, her determination to live, and her pleasure in the power that Lo-Melkhiin doesn't understand.
Very dark, smooth chocolate, possibly with an unusual spice like cardamon, or maybe ginger. Eaten one square at a time, with the flavour lingering on your tongue for the rest of the evening.