Hi all, and welcome to another edition of Whats On My Kindle! In this episode, your faithless blogger is on her way to Spain and Portugal for a two-week bike trip, and, as usual, she is a little panicked about the idea of having to spend any down time without a book on hand. So, this is what she has downloaded into her phone: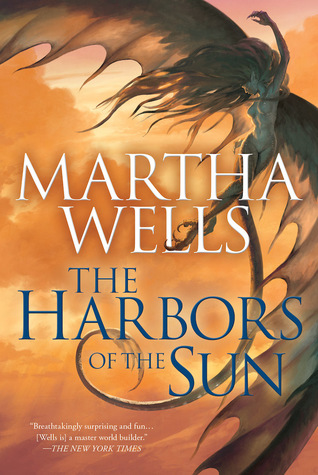 Martha Wells
Raksura series
:
I've read the first three books, but it's been a while, so I've got them available to re-read, and I have the two short-story collections and books 4 and 5,
The Edge of World
s, and
The Harbors of the Sun
.
I've also pre-ordered the next Murderbot novella,
Artificial Condition
, which will arrive next week, I think. Very excited!
Stone Mad: A Karen Memory Adventure
, by Elizabeth Bear, should be fun. Also, I have to say I like the new trend for novellas. Particularly for travel reading!
Another intriguing-sounding novella:
Gods, Monsters and the Lucky Peach
, by Kelly Robson. I also picked up
The Tea Master and the Detective
, by Aliette De Bodard, but I finished it already, so I can't count it. (It was interesting, but didn't make me run out and buy more stories in the same universe. Might later.)
Not a novella:
The Guns of Empire
, by Django Wexler. I'll probably need to reread the other three books in this series, and I have them as well, so that should keep me going for a while. I should probably get the last one, too, huh?
And on my library e-book app:
The Forbidden Rose
, by Joanna Bourne. It's the third of her Spymaster series, and I think I've read the first two, but I can't quite remember. Library didn't have them, but this is apparently first chronology-wise, so it should be okay to read it on its own.
Behave: The Biology of Humans at our Best and Worst
, by Robert M. Sapolsky, because
Jenny at Reading the End
recommended it, and sometimes you just feel like something non-fictiony.
Of course, just in case the brain is too fogged with Gravol (Dramamine) to focus on words, I took great advantage of the Netflix download feature and the ridiculous memory on my phone to get all kinds of random stuff, including a couple of series in Spanish (so I can learn the language by osmosis on my way over): Morocco, Love in Times of War, and El Ministerio del Tiempo. Because, Morocco, and time travel. I've also got some anime, some Star Trek: TNG, Miss Fisher's Murder Mysteries, Monty Python, a Korean drama ... you get the picture!