I said I would review the rest of the
Cybil's Middle-Grade Spec Fic shortlist
, and then I got distracted by other books (there are always other books, aren't there!). But I just read a novella by T. Kingfisher, who, it turns out, is actually Ursula Vernon, when she's writing for adults. Which I didn't know she did. Which is very exciting, because she's an awesome writer! So I decided I needed to do a fangirly squee post about Ursula Vernon. Which will include a review of
Castle Hangnail
!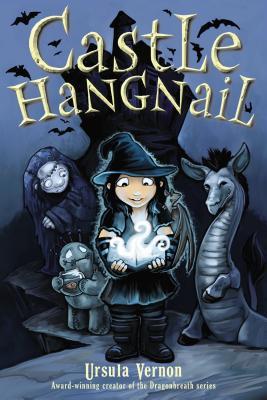 Ursula Vernon has definitely inherited the mantle of Eva Ibbotson.
Castle Hangnail
will thrill anyone who loved
Which Witch
: it's pretty much a remake of that story (in fact, there are several elements of homage, if you're looking for them, including the bat in Molly's hair): there's a gloomy castle full of quirky minions in need of a wicked master, and a young witch who has the right boots but might not otherwise be as qualified for the position as she claims. I think Ibbotson would be pleased at the way Molly sabotages the evil developer (just the sort of small-minded antagonist Ibbotson loved to defeat) and would cheer the way she gets the bullying sorceress Eudaimonia to defeat herself.
I think Vernon's heroine is a little more complicated and interesting than Ibbotson's straightforward good guys, and her secondary characters are marvelously well-rounded, each with their own little character arc. There's also a significantly darker streak to the magic and the plot—dare I say there's some Diana Wynne Jones going on here, too?
The humour is lovely and multi-layered, as you would expect from the author of
Harriet the Invincible
(and I've got to read the
Dragonbreath
books: they look equally brilliant). I'm at the point where I'll buy anything Ursula Vernon publishes: she can draw, she can write wonderful middle-grade novels, she can write humour …
And she does brilliant adult fairy-tale reworkings! Under the name T. Kingfisher (a name she calls "vaguely absurd"!), she has published a number of short stories and several novels. I highly recommend the short stories, which you can find
here
. Some of them are quite disturbing, some of them are just lovely, and all of them are fascinating and thoughtful, and will change the way you read everything else. ("Elegant and Fine" is the story of Susan from the Narnia chronicles, and it's . . . eye-opening. I liked it a lot.) I particularly loved "The Tomato Thief" (and "Jackalope Wives," which you have to read first).
The novella that I read is
Nine Goblins
. It started out very fun and spoofy, and then turned into something quite deep. Reviewers have compared it to Terry Pratchett's Discworld stories, and they're not wrong. (Gosh, how many amazing authors can we compare Vernon to?!) I am looking forward to getting my hands on
Bryony and Roses
—her Beauty and the Beast retelling—, and
The Raven and the Reindeer
, which is The Snow Queen.
Every Monday you can find more Middle-grade recommendations on
Shannon Messenger's blog
; there's always something new to discover!